Remodeling Options For Modern Bathrooms
---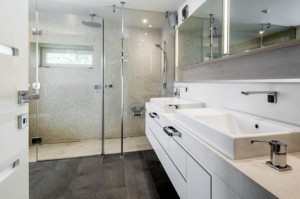 If you've been wanting to give your Bathroom an update, bathroom remodeling options will include choosing the vanity and fixture designs as well as other elements that fit the overall design style you're going for.
Bringing your bathroom space and the rest of your home up to date with modern elements will go a long way to adding value to your home and helping you to resell if you ever decide to do so.
Modern may not be your favored decorative style, but that doesn't mean your design can't be updated with a new twist even when you're going for a more traditional aesthetic. You don't want the same old laminated oak cabinets that have been around for decades! Especially not when there are too many other choices out there.
But the problem can be that there are still many of the standard cabinetry options on the market and in home improvement retail chain stores that haven't changed style since the 1980's, which leads people to believe that they're "in style" though they're decades out of style.
How many times have you seen those standard oak, honey colored cabinets that were a new look decades ago? Which means if you're unaware of what's out there for modern options, you'll be updating your home with new fixtures and cabinets that are in many older homes.
Floating Vanity Options For Remodeling Bathrooms
Your choices for bathroom remodeling can be modern without compromising on a traditional look if that's what you're wanting. For instance, many more design styles for floating vanities are available today then there have been traditionally, so you'll find options in different styles including those that would go perfect in a traditional styled home.
How To Bring Traditional Design Into Modern Bathrooms
The word modern defined means, "of or relating to present and recent time; not ancient or remote: *modern city life.* So when you think of updating to something modern, bear in mind that your design needs to relate to now, and possibly the future, not to the past. But also realize that "relating to" doesn't mean replacing. Which is perfectly fitting because you're not trying to replace or ignore traditional style, you're only wanting to find a way to relate the past elements with modern times.
Consider that to bring traditional style into your new modern bathroom, you can keep some of the older elements that help you to keep some opulence –
Traditional style included opulence and ornate design. Your modern design doesn't have to be completely clean and strictly structured.
Consider incorporating some traditional textures like wood flooring.
Use printed photography or wall art to bring in ornate design instead of choosing ornate fixtures or hardware.
Recent Articles
3 Basic Tips for the Perfect Bathroom

Renovating your current bathroom can be both rewarding and challenging at the same time. With all the options available to you and with all the possible pitfalls, if you're not careful, paradise could turn into disaster before you know it. This is why it's important to employ careful strategy and planning into every step of…

Read More

Picking the Perfect Washington Bathroom Design

Before starting a bathroom project you need to have your Washington Bathroom Design in place first. Just like having a plan and budget in place this is an important beginning step to the project. Of course in order to have the perfect design you have to have the right team of experts on your side. You…

Read More

If you are looking for a South Jersey Bathroom Remodeling Design Contractor then please call 856-302-1007 or complete our online request form.