South Jersey Bathroom Renovation Services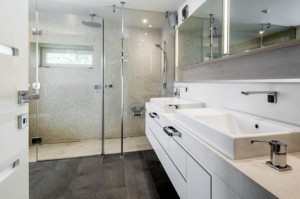 At Baths By ZR we are proud to offer our South Jersey Bathroom Renovation package. By offering packages like this we try to make it easier for the customer to get exactly what they want but at an affordable rate. Most importantly the client knows upfront what is included and for what price.
We offer two packages; this one and the Tune Up Bath Package. But this is our top of the line package, aside from getting into creating a full customized bathroom. With the Super Saver this covers a standard 5×8 bathroom renovation and includes some deluxe options all for just $8,900.
For starters you have your choice of either a new premium tub or a tub to shower base conversion. You get tiles on shower walls and bath floors. plus waterproof boards under the tile. You also get your color choice of a solid wood vanity and a new mirror and replacement light. Included with this package is marble or granite vanity top with new sink.
We also offer a new Kohler toilet, as well as Moen shower and sink faucets. Of course this also includes making all necessary water and drain connections to existing lines. We will replace or repair with mold guard drywall as needed and paint walls. And finally, this also includes any necessary demo work and all trash removed from job site.
South Jersey Bathroom Renovation
At Baths By ZR bathroom remodeling in South Jersey just happens to be our specialty. We found such a high demand for our South Jersey Bathroom Remodeling contractors work in this field that we found the need to create a division of the company to focus on just this. Taking care of our customers means also meeting the demands of the work they want most.
We have earned the reputation for offering the finest workmanship for a reason. Our commitment to quality work and customer satisfaction is what makes us number one. Contact us today so we can get started.
Bathroom Design
We are known for our expert bathroom design as part of new builds or renovation projects. We can work with anyone whether they know exactly what they want or do not have a clue. Now let us show you all of the work we can take care of for your home.
Bathroom Remodeling Contractor
We can tackle any job as the top South Jersey Bathroom Renovation contractor. From your large master bath to your powder room it's all part of what we do. Contact us today and take advantage of our South Jersey Bathroom Renovation package or any other plans you have for your renovations.
Recent Articles
Remodeling Options For Modern Bathrooms

If you've been wanting to give your Bathroom an update, bathroom remodeling options will include choosing the vanity and fixture designs as well as other elements that fit the overall design style you're going for. Bringing your bathroom space and the rest of your home up to date with modern elements will go a long…

Read More

Picking the Perfect Washington Bathroom Design

Before starting a bathroom project you need to have your Washington Bathroom Design in place first. Just like having a plan and budget in place this is an important beginning step to the project. Of course in order to have the perfect design you have to have the right team of experts on your side. You…

Read More

If you are looking for South Jersey Bathroom Renovation then please call 856-302-1007 or complete our online request form.