Tile Flooring Options For Your Bathroom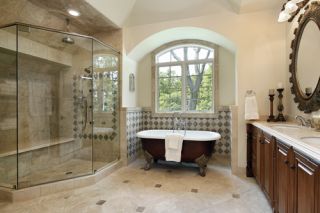 Are you planning to remodel your bathroom? If so, you'll be making many decisions including what new flooring you prefer. With floors, durability and beauty are key.
Tile flooring is wonderful in the bathroom due to the waterproof properties. They are also highly durable, perfect for high foot traffic areas such as bathrooms and kitchens.
Tile floors are easy to clean as well as the surface is naturally resistant to dust, dirt, and grime.
There are many options in bathroom tiles for your remodeling project including ceramic, natural stone, glass, and porcelain. For floors, many love natural stone or porcelain, which are the strongest types.
Porcelain & Ceramic Bathroom Tile Flooring
Ceramic and porcelain flooring options come in a wide array of colors, shapes, and finishes. An old favorite, Terracotta has been making it's way back into homes lately. This offers a more traditional look due to it's natural, unglazed finish.
Porcelain floor tiles are the strongest option due to it's manufacturing process. The tiles are put under extremely high temperatures which gives them added strength.
Easy To Clean
Versatile, unlimited color, size, style, shapes, textures
Fire Resistant
Water Resistant
Highly Durable
Beautiful
Engineered Bathroom Floor Tile
If you haven't seen options in engineered bathroom floor tiles, you need to call us to see some. An example of engineered stone flooring is Quartz.
Engineered quartz floor tiles are made with chips of marble or other stone types and stone powder which is set with an adhesive base. It is formed into the shape of tiles.
This product gives you a touch of class in your bathroom and is perfectly suited as a waterproof material. Color options come in a wide array similar to natural stone tiles.
Natural Stone Bathroom Floor Tile
When replacing your old flooring, consider natural stone options to bring your bathroom to a higher level of function and design.
There's nothing more beautiful than a bathroom that sports a natural stone floor. These materials offer natural resistance to water, humidity, bacteria, mold, and mildew.
With Baths By ZR handling your bathroom remodeling, you'll have gorgeous options in natural stone.
Soapstone
Granite
Limestone
Marble
River Rock
Travertine
Slate
Your Tile Flooring Experts
If you are looking for an expert in tile flooring for your bathroom remodeling project, Baths By ZR is ready to help. We'll work with you to design the perfect bathroom to include beautiful tile floors.
We also offer custom remodeling so you can have any type of floor you desire. Our expert designers are just a phone call away!
If you would like to know more about Tile Flooring, please call Baths By ZR at 856-302-1007 or complete our online request form.