Toilet Replacement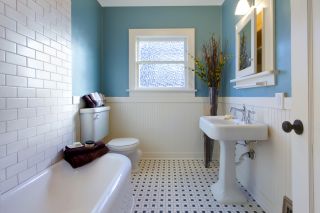 If you are planning to renovate your bathroom, start with toilet replacement. Making decisions on what to replace can be difficult, especially when on a tighter budget.
Whether you are custom remodeling or choosing one of our packages, toilet replacement will be part of the process. Is your old toilet an eyesore? Or is it causing you headaches due to leaks, running sounds, or poor flushing?
Toilet replacement solves all these problems that old toilets can cause. Isn't it time to replace that old toilet with a better one? Whether it's for a guest powder room or your master bath, you'll have plenty of great options in style, function, and efficiency.
Reasons To Replace A Toilet
During any bathroom remodeling project, toilet replacement can be beneficial. Many older homes have toilets that are decades old.
If you have an older toilet and are renovating the bathroom, replacing it can make cleaning easier and bump up the aesthetics of the space. Just like any other fixture in your home, toilet replacement should be done after years of use.
There are also water saver features incorporated into toilets today that you may find useful as well. The type of toilet you choose will determine style, function, and efficiency.
Types Of Toilets
The toilet is the most important plumbing fixture in the bathroom so it's important to make sure that you have one that is customized to your unique needs. Our Bathroom Remodeling Experts we specialize in helping and other South Jersey residents select and install the best toilets during their bathroom remodeling project.
Double Flush Toilet
Water Saver Toilet
Bidets
Compact Space Saving Toilet
One Piece Toilet
Two Piece Toilet
Elongated Toilet
Round Front Toilet
Square Bowl Toilet
Rectangular Toilet
Low Flow Toilet
Tall Toilet
Touchless Toilet
Designer Toilets
Wall Hung Toilet
Anglo-Indian Toilet
Kid's Toilet
Elderly Toilet
Smart Toilet
High Performance Top Rated Toilets For Replacement
Replacing an old toilet with a high performance toilet gives you not only high style but high function. The quality manufacturers we work with are experts at creating beautiful products with enhanced capabilities. Baths By ZR offers these top rated toilets for replacement.
Easy Clean Surfaces
Flush Rate Options
Durable Flushing Technology
ADA Compliant
Water Efficiency
Industry Leading Warranties
If you would like to know more about Toilet Replacement, please call Baths By ZR at 856-302-1007 or complete our online request form.