Monroe Bathroom Remodeling & Bathroom Design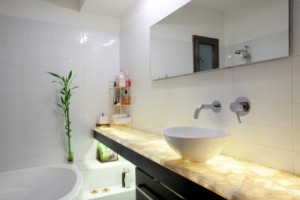 Looking for the best choice for Monroe bathroom remodeling and bathroom design? Then congratulations because you have come to the right place. At Baths By ZR we are the premier name to turn to for all of your bathroom renovation projects. Big or small we can take care of it all. Which is why we offer a couple of different packages as well as standard custom remodeling for your bathroom.
We have a Tune Up Bathroom Remodeling package available that is priced at just $4900. This partial remodel is ideal if you do not need a full renovation. It includes details like a new premium tub, sink and toilet – just to name a few.
We also have a Super Saver Bath Package which comes in at just $8900. And with this you get the deluxe package that also includes things like tub to shower base conversion, new mirror and replacement light as well as ceramic tile for walls and floor. All our work includes important cleanup and trash removal following the completion of the job.
Bathroom Remodeling Packages We Offer
Bathroom Remodeling in Monroe
It is a privilege to be the top choice for bathroom remodeling in Monroe, NJ. There is a lot of rich history here and we are glad to be part of the community. This area's first residents predate 1776 and the township was actually formed in 1859. Because of the great abundance of beautiful pine trees here the township was referred to in early history as the "pine townships."
The beautiful thing about this area is that it continues to grow and advance. In recent years we have seen a new library, fire station and police headquarters. And with more planned and in the works we are pleased to be part of it with our Monroe bathroom remodeling and bathroom design.
Monroe Bathroom Design
For all of your Monroe bathroom design needs there is only one name to call – Baths By ZR. We can take care of whatever you need done for your master bath, powder room or even hall bath. But we can't get started until you get in touch with us by calling 856-302-1007.
Bathroom Remodeling Contractor
It doesn't matter if you have all the plans already in your head or don't have a clue about what you want. At Baths By ZR part of how we got to be the number one bathroom remodeling contractor is by being able to advise our clients. We look forward to working with you as your top choice for Monroe bathroom remodeling and bathroom design.
Recent Articles
3 Basic Tips for the Perfect Bathroom

Renovating your current bathroom can be both rewarding and challenging at the same time. With all the options available to you and with all the possible pitfalls, if you're not careful, paradise could turn into disaster before you know it. This is why it's important to employ careful strategy and planning into every step of…

Read More

Picking the Perfect Washington Bathroom Design

Before starting a bathroom project you need to have your Washington Bathroom Design in place first. Just like having a plan and budget in place this is an important beginning step to the project. Of course in order to have the perfect design you have to have the right team of experts on your side. You…

Read More

If you are looking for a Monroe Bathroom Remodeling Company then please call 856-302-1007 or complete our online request form.