Exceptional Bathroom Designs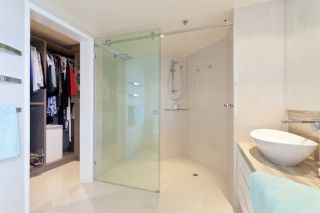 Every successful event begins with a good design plan. To have a truly exceptional bathroom, you need an exceptional bathroom design. Remodeling the bathroom takes proper planning.
Baths By ZR are the bathroom design and remodeling experts who can deliver exceptional results every time whether the space is small or large.
Let us work with you to figure out what's best for you. We'll take all your thoughts, desires, and ideas and incorporate them into a stunning new bathroom design.
Isn't it time you had the best bathroom design that gives you stunning results?
Design Options In Bathroom Flooring
Tile makes one of the best options for bathroom flooring. When remodeling, it's important to choose the right type of materials that fit the space you are renovating.
Tile comes in many options including natural stones like marble and granite, ceramics, porcelain, glass, and hardwood. For bathroom floors, a tile that is waterproof will last longer and not cause mildew or mold problems.
Slate
Marble
Ceramic
Porcelain
Bamboo
Travertine
Tile can go anywhere in your bathroom including the ceiling, walls, and floor. There are many beautiful metal ceiling tiles that can create stunning aesthetics.
Our expert bathroom remodelers can help you find the right flooring options for your new bathroom space. Do you have any favorites?
Bathroom Vanity Tops Set The Stage
Nothing stands out more in a bathroom than a great looking vanity top. That's why so many choose granite or marble for this area. There are stunning varieties in these materials that are completely unique from slab to slab, and they come in a huge array of colors and patterns.
Bathroom Sink & Toilet Replacement
Sinks and toilets wear out over time. The finish gets dull and stains start to set in. Design styles go out and the home gets stuck in an era that should be left behind.
Scrubbing an older sink or toilet can be frustrating to put it lightly. Replacing these fixtures gives you an updated bathroom that's easy to keep clean.
Design For Bathtubs & Showers
Replacing your tub and shower can help to create a whole new design in your bathroom. Standard or outdated tubs can really bring down the aesthetics of this space.
Old tub surround or shower tiles have the habit of breaking and collecting mildew within the grout. Replacing these with a beautiful new tile incorporated into the design will make a huge difference.
There are many options in showers and tubs for you to choose from. And, remodeling is the perfect time to have a spa or whirlpool tub or a new shower for two. What do you dream of in a luxurious bathroom?
Small changes or large, choosing the right fixtures to replace can bring about a big change.
Baths By ZR can help you plan the right design to create a stunning new bathroom.
If you would like to know more about Bathroom Design, please call our expert designers at 856-302-1007 or complete our online request form.