Willingboro Bathroom Remodeling & Bathroom Design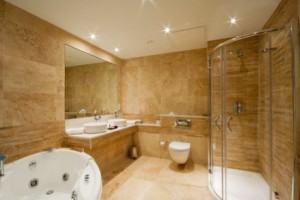 We are pleased to be considered the top Willingboro bathroom remodeling and bathroom design team in the area. Some of this certainly comes from our ability to really understand what it takes to make the customer happy. It isn't about just showing up to install a new tub. At Baths By ZR we offer guidance throughout the entire process.
This means offering advice such as stressing the importance of starting with the budget. Too many homeowners make the mistake of starting the process and then trying to throw the budget together. Although we can work with any budget there has to be one in place, first. But even if you need assistance with that we are here to help.
Also we like to make suggestions like addressing the importance of considering going green. Not only is this the environmentally responsible thing to do but it will save you money in the long run on your monthly bills. The bottom line is that if you want to make smart choices about your renovation project then let us help you get the job done.
Bathroom Remodeling Packages We Offer
Bathroom Remodeling in Willingboro
It is always an honor to get the opportunity to take on a bathroom remodeling in Willingboro. Like many of the areas nearby, the original inhabitants were Lenape. It was the Quakers in 1677 that helped start colonization of the Delaware Valley area. As you can still see from the environment here, agriculture was the main industry here until the 50's.
As this became a quiet, family focused place to live the population grew quickly. This is part of what has made it such an ideal place to live, work and raise a family. So we love when we get the chance to take on a project here are help create the someone's dream house.
Bathroom Design in Willingboro
When it comes to whatever you have in mind for bathroom design in Willingboro, NJ we can help make that happen. Whether you have nothing in mind or have every last detail down to the cabinetry hardware picked out, either way we can put that together for you. But it all begins with you reaching out to us.
Bathroom Remodeling Contractor
Don't cut corners when it comes to the bathroom remodeling contractor you choose. If you are going to invest the time and money into the project work with the best, work with the Baths By ZR name. For your next Willingboro bathroom remodeling and bathroom design project let us take care of that for you.
Recent Articles
Common Camden Bathroom Remodeling Mistakes to Avoid

When you picture your Camden Bathroom Remodeling project you probably envision it going smoothly, quickly and without a single problem. Of course that's only possible if you learn some common mistakes to avoid. For one thing hiring just the right pros is part of making this possible. Too many Camden homeowners right off the bat hire a…

Read More

3 Quick Guest Bath Makeovers You'll Want For The Holidays

If you feel like your guest bathroom needs a makeover before family and friends visit for the holidays, you are not alone. Everyone faces quite a bit of stress when they aren't so proud of their old guest bath. Fortunately, a small bathroom is easy to update, so there are quick ways to remodel it.…

Read More

If you are looking for a Willingboro Bathroom Remodeling Company then please call 856-302-1007 or complete our online request form.