South Jersey Bathroom Remodel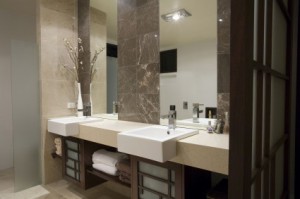 For all of your Bathroom Remodel needs the name to trust is Baths By ZR. We have become the leading experts in this field because of the fine craftsmanship and attention to detail we apply. But it is of course always about delivering 100% customer satisfaction.
We can help walk you through the entire process from start to finish. So whether you have an idea of exactly what you want or don't have any clue the choices you want to make we can help with that. Whether you want a partial remodel, want just a powder room renovation or need a full scale master bath overhaul we take care of all of that.
We will show you the options you have available and even help advise you towards making the best choices possible. Our Bathroom Remodeling contractors goal is to help you create the bathroom you have always dreamed of having but never thought you could. We are simply there to take care of the design and carry out the work. If you can dream it we can deliver it.
Bathroom Remodeling
So start thinking about and planning for your bathroom remodeling in South Jersey. You have so many details to think about like the tub, sink, vanity, flooring and more. Let us meet with you and begin to show you all of your vast options.
Our bathroom remodeling project managers understand how to plan and build the perfect bathroom for your needs. We look forward to having the chance to custom design the perfect bathroom for your family and your home. If you want to make changes, upgrade and update or just be able to finally customize your bathroom then give us a call.
Bathroom Design
At Baths By ZR we are dedicated to improving your home's guest and master bath space. This type of renovation project is a great way to customize your house, improve the functionality all while adding to the property value of your home. But we can't get started until you call us at 856-302-1007. Stop putting off this project when we could be taking care of it right away.
Bathroom Remodeling Contractor
For all your expert bathroom remodeling contractor needs the name to call is Baths By ZR. We have taken part of our existing business and turned it into a bathroom remodeling only operation just to handle the high demand for this type of work. Now let us show you firsthand what makes us the best for your Bathroom Remodel tasks and how we can truly transform the look of your bath and your entire house.
Recent Articles
Monroe Bathroom Remodeling Contractor

When it comes to your bathroom remodel, what plans do you have for its future if any? If you are thinking about bathroom remodeling, you're going to need lots of help because renovating any room in the home is tough and can present challenges where there were noon before. Your bathroom is one of the…

Read More

Common Camden Bathroom Remodeling Mistakes to Avoid

When you picture your Camden Bathroom Remodeling project you probably envision it going smoothly, quickly and without a single problem. Of course that's only possible if you learn some common mistakes to avoid. For one thing hiring just the right pros is part of making this possible. Too many Camden homeowners right off the bat hire a…

Read More

If you are looking for a South Jersey Bathroom Remodel then please call 856-302-1007 or complete our online request form.