Deptford Bathroom Remodeling & Bathroom Design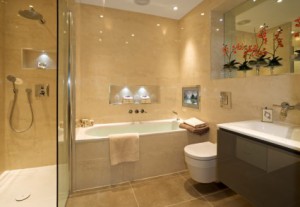 At Baths By ZR there are several reasons we have quickly become the top choice for Deptford bathroom remodeling and bathroom design. For one thing our main focus always has been and will be 100% customer satisfaction. We work with you to help you understand the vast array of options you have available when you let us take care of your bathroom renovation project.
Of course the products we use and the workmanship also helps set us apart from the competition. We are dedicated to offering only the best for our clients. We don't want to just meet your expectations we aim to exceed them.
But we can't get started until you give us a call. Let us meet with you and show you firsthand what makes us number one. We can help transform your dreams into reality all while adding property value to your home. So let's get started today.
Bathroom Remodeling Packages We Offer
Bathroom Remodeling in Deptford
Part of what makes being the top choice for bathroom remodeling in Deptford, NJ such an honor is because of the rich history here. The township was founded in 1693 and the area covers just over 17 square miles. As the first landing site of the first flight in American history visitors can check out the old Clement Oak tree that marks this spot.
Approximately 31,000 call this area their home and we are thrilled to be part of taking care of the remodeling needs of these residents. Part of the appeal of this area is also the thriving business community as well as the fact that some of the best restaurants anywhere are right here in Deptford. And we will do whatever it takes to continue to take care of the renovation services needs of the locals who call this place home.
Bathroom Design in Deptford
Call on us when it comes to your bathroom design in Deptford. We can show you all of the wonderful options available to you and even help you make important choices. No matter what your deadline or budget is we can try to make it happen. It's why we also offer two premium remodeling packages so you know exactly what you are getting and for what price.
Bathroom Remodeling Contractor
We want to be your bathroom remodeling contractor of choice. From small powder rooms to large master baths we can do it all. Let us show you what makes us the best Deptford bathroom remodeling and bathroom design specialists in the area. Contact us today to find out how to get started.
Recent Articles
Picking the Perfect Washington Bathroom Design

Before starting a bathroom project you need to have your Washington Bathroom Design in place first. Just like having a plan and budget in place this is an important beginning step to the project. Of course in order to have the perfect design you have to have the right team of experts on your side. You…

Read More

Common Camden Bathroom Remodeling Mistakes to Avoid

When you picture your Camden Bathroom Remodeling project you probably envision it going smoothly, quickly and without a single problem. Of course that's only possible if you learn some common mistakes to avoid. For one thing hiring just the right pros is part of making this possible. Too many Camden homeowners right off the bat hire a…

Read More

If you are looking for a Deptford Bathroom Remodeling Company then please call 856-302-1007 or complete our online request form.