Evesham Bathroom Remodeling & Bathroom Design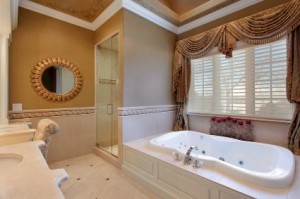 A large part of being the top choice for Evesham bathroom remodeling and bathroom design is taking care of proving the finest in customer service. This means actually giving the clients the guidance they need along the way. At Baths By ZR we make sure you understand the steps we will be taking to complete your renovation job.
It also means offering guidance to making important decisions about your job. This even involves offering you general advice about your bathroom renovation. For instance we know everyone loves gorgeous flooring but instead of just letting you choose without any type of advice we like to make you think about choosing whatever works for your lifestyle.
You want something durable and also comfortable. There is nothing worse than making a choice you have to live with and have spent a great deal of money on just to end up hating it. We want you love every detail of your new bathroom – flooring and all. So let us help you make the best choices possible.
Bathroom Remodeling Packages We Offer
Bathroom Remodeling in Evesham
One of the things we love about the work we do is the variety of people we get to work with and places we work in. So getting to be the top choice for bathroom remodeling in Evesham, NJ is always a treat. This area was settled in 1672 by the Quakers.
Although it was once filled with a great deal of farmland that changed in the 50's when much of the land was snagged up by savvy developers creating the area's first housing developments. That doesn't mean it is any less beautiful though. So we love when we get the chance to work in this lovely area and with the people here who are so nice.
Bathroom Design in Evesham
If you are ready for tackling a project like bathroom design in Evesham then it is time to give us a call. We can take on any project large or small. From partial remodels to full scale renovations. And this includes your tiny powder room up to you huge master bath.
Bathroom Remodeling Contractor
We look forward to taking care of your next bath renovation task. As your premier choice for Evesham bathroom remodeling and bathroom design we want to be able to make all of your dreams come true. Because at the end of the day it is your house and your bathroom. There is no reason you have to see it as a boring, functional room when it can be a beautiful spa-like environment for you to relax in.
Recent Articles
Remodeling Options For Modern Bathrooms

If you've been wanting to give your Bathroom an update, bathroom remodeling options will include choosing the vanity and fixture designs as well as other elements that fit the overall design style you're going for. Bringing your bathroom space and the rest of your home up to date with modern elements will go a long…

Read More

Monroe Bathroom Remodeling Contractor

When it comes to your bathroom remodel, what plans do you have for its future if any? If you are thinking about bathroom remodeling, you're going to need lots of help because renovating any room in the home is tough and can present challenges where there were noon before. Your bathroom is one of the…

Read More

If you are looking for an Evesham Bathroom Remodeling Company then please call 856-302-1007 or complete our online request form.