Beautiful Bathroom Sinks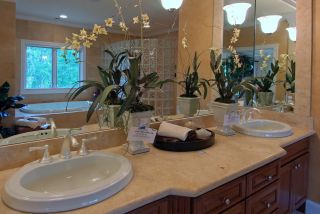 Wouldn't you prefer to have beautiful bathroom sinks in your home? You aren't just limited to standard sink options as you were decades ago with your only option being a different color.
Modern sinks of today come in many highly beautiful options in both form and design.
Bathroom sinks are not just about function. They set the stage for a beautiful bathroom design. But the function can't be lost either. Sometimes it's hard to find this balance.
Baths By ZR can help you find the perfect sink to fit with the aesthetics you wish to create during your bathroom remodeling project.
Bathroom Sink Design
For instance, with a granite countertop, an undermount sink in beautiful copper is stunning. Or a glass, bronze, copper, nickel, steel, or stone vessel sink creates a stunning display.
The size of the bathroom sink can vary based on whether it's a small guest bath or your master bath. The larger sinks are better for more use while smaller can work perfectly in a bathroom for guests.
Baths By ZR have helped homeowners with their bathroom remodeling since 2004, but we have many more years of experience in the industry.
We offer full design and project management so you can be sure to end up with the perfect new bathroom sink. Let us help you find something phenomenal!
Matching The Sink To The Vanity & Countertop
The cabinet base of a non-pedestal sink is the vanity. The style of the vanity needs to have design cohesion with the sink you choose.
Equally, the countertop color and texture will matter in which sink you choose.
This means if you really want a certain sink, design the vanity and countertop to set off the sink. Or, if you love a certain countertop or vanity style, you'll want to make sure to choose the sink that will enhance them.
Enamel
Ceramic
Porcelain
Stone
Copper
Glass Vessel
Terrazzo
Bronze
The bathroom sink you choose to install will play a large role in your daily life. We don't think much about the sink, at least unless the current one isn't functioning properly or has begun to take on a dull sheen that's hard to clean.
Baths By ZR has the perfect sink options to enhance your bathroom style and make your grooming tasks better. Call today for a free bathroom remodeling estimate. You're going to love working with our designer!
If you would like to know more about Bathroom Sinks, please call 856-302-1007 or complete our online request form.