Monroe Bathroom Remodeling Contractor
---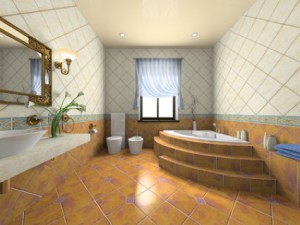 When it comes to your bathroom remodel, what plans do you have for its future if any? If you are thinking about bathroom remodeling, you're going to need lots of help because renovating any room in the home is tough and can present challenges where there were noon before.
Your bathroom is one of the most widely used rooms in the home. It's a place where family members get ready for work, a night out on the town and go to relax after a long day. But over time, it starts to get a funk to it that's impossible to eliminate.
One of the best methods to employ into a bathroom renovation is going "green" with it. It's good for the environment and also will improve the look of your home. Green products have great design qualities and can also help to lower your monthly utility bills.
Saving money is something that we all strive for whenever renovating the home. Every penny counts when purchasing building materials and hiring contractors to install the products. If you want to save more money in Monroe Township on your bathroom, consider refinishing the following:
Watching your budget can help so that you don't go overboard during the renovation. We all have the tendency to overspend, but saving money will help for other things to be accomplished after the remodel such as bath mats, carpet and décor.
Some of the most effective updates to a bathroom can be inexpensive to do. Changing out the hardware, for example, can make a huge impact. Items such as the drawer pulls, faucet handles, and showerheads are very inexpensive to replace.
Never ever underestimate the importance of lighting in a bathroom. Lighting is one of the most vital aspects to this room. Sconce lighting at the vanity is an ideal way to have even and balanced lighting throughout the bathroom.
Ventilation is also very important. Moisture can be a bathroom's worst enemy. In fact, moisture can develop into mold very easily. A fan of appropriate CFMs for the square footage of the bathroom can save you from breathing in dangerous mold spores.
Remember, the best place to start any remodeling project is with the budget. It will have a greater impact on the materials which you buy as well as the boundaries that are set for the bathroom's design.
If you want professional Monroe Bathroom Remodeling Contractor, call Baths By ZR. They are the experts when it comes to renovating the home and can get you the bathroom that you've been dreaming of all along.
Recent Articles
Common Camden Bathroom Remodeling Mistakes to Avoid

When you picture your Camden Bathroom Remodeling project you probably envision it going smoothly, quickly and without a single problem. Of course that's only possible if you learn some common mistakes to avoid. For one thing hiring just the right pros is part of making this possible. Too many Camden homeowners right off the bat hire a…

Read More

Remodeling Options For Modern Bathrooms

If you've been wanting to give your Bathroom an update, bathroom remodeling options will include choosing the vanity and fixture designs as well as other elements that fit the overall design style you're going for. Bringing your bathroom space and the rest of your home up to date with modern elements will go a long…

Read More

If you are looking for a Monroe Bathroom Remodeling Contractor then please call 856-302-1007 or complete our online request form.