Baths By ZR: Stratford's Premier Bathroom Remodeling Specialist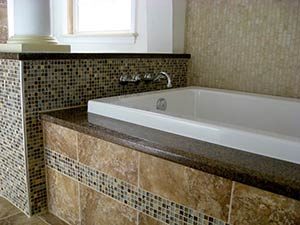 Do you need to find a remodeling contractor in the Stratford, New Jersey area who offers quality bathroom remodeling services? When you choose Baths By ZR as your trusted remodeling contractor, you'll get help from professionals who are truly passionate about helping you to enhance your Stratford home's bathrooms in the best ways possible.
Whether we're helping you update a small guest bath or are helping you revamp all the bathrooms in your house, our local bathroom remodeling specialists can bring you unmatched service and affordability to complete your project. Our specialists can help you get cost-effective solutions that offer you the most in lasting value.
As a family owned and operated remodeling company, we work hard to be more than just the best in the local area. Our professionals truly want to create lasting relationships with each and every one of our customers.
Bathroom Countertops
In addition to beautiful granite, both quartz and engineered quartz countertops are in high demand with local Stratford homeowners. Trying to decide between the different materials available can be difficult, especially since there are so many to choose from.
If you have a small bathroom, it's relatively easy to update, so there are quick ways to remodel it without breaking the bank. For instance, tile countertops are yet another option you could go with. Tile will hold up to the moisture and humidity generated in bathrooms, and it's very easy to replace when necessary. All you need is to replace one tile at a time instead of one big piece of granite or quartz.
Never fear because our expert bathroom remodeling contractor can help you choose the new vanity countertop to go with the rest of the materials in your bathroom and home. We install all types of new countertops and we know how to work with quartz. Our professionals will carefully install your new materials so that everything is handled with expertise.
Bathroom Vanity
As you're thinking about what type of countetop to choose, also think abou the bathroom vanity. Would replacing this cabinet be worth the effort or would it fit within the bathroom remodeling budget you have planned for your Stratford home?
If so, ask yourself about the style of vanity you want. Would a cabinet vanity with drawers work better than a simple pedestal sink? Do you need any additional storage cabinets that may fit in the room? If you'd like to discuss all the different options that would best fit your needs, then call our pros at Baths By ZR to get your project launched. We'd be happy to help you plan all these details and make the decisions that work best for you and your family.
If you are looking for a professional Stratford Bathroom Remodeling Company then please call 856-302-1007 or complete our online request form.