Superior Pine Hill Bathroom Remodeling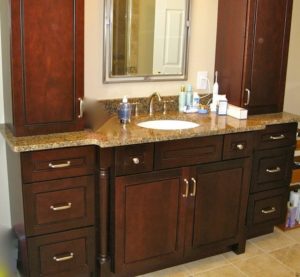 Baths By ZR is proud of the title we've earned as a local leading Pine Hill bathroom remodeling specialist. We're going to show you the full potential your bathroom has because, right now, it's probably not close to what it could be.
If you're using this space as just a utilitarian room then you're missing the point, as well as wasting valuable real estate inside your own home. With the right planning and design, this can be a place where you can relax and unwind at the end of the day; a spa-like atmosphere.
What does your bathroom mean to you? Because if it's anything less than just another room in your home that you enjoy being in, then it's wasted space.
Bathroom Remodeling in Pine Hill
With a combined history spanning six decades worth of experience in Pine Hill bathroom remodeling, our work is a sure fire thing. If you're not convinced you need this type of work, here are a few great reasons homeowners are making the call for this type of renovation work:
Although lots of homeowners complain about not having enough space, the problem is usually just misuse of the space that does exist. We can optimize your space and make better use of what you already have.
Looks do matter, even in rooms guests won't ever go. You should have a sense of pride in every room in your home, including the bathroom.
Maybe you want to enlarge your current bathroom. We can work with you to show you the options you've got for expanding past your current size.
Maybe the layout doesn't work for you. Although moving plumbing and electrical makes the job more labor intensive, it can be totally worth it if it means you're going to better enjoy this space.
Update & Upgrade Your Pine Hill Bathroom
The right bathroom should be about comfort and enjoyment. This often means implementing updates and upgrades, such as toilet replacement or heated flooring.
When you want a team that will help you optimize the benefits of this space with Pine Hill bathroom remodeling, give us a call. Make your bathroom great again and let us help get you there.
The great news is that once you improve your bathroom, this will also increase the property value of your house. So, really, you can think of this as a wise investment and not just a wasted expense.
Your home should fit your own personal style and accommodate your specific needs. If that's not the case then it's time to make some changes, and we can make that happen for you.
If you are looking for a professional bathroom remodeling contractor in Pine Hill, give us a call today at 856-302-1007 or fill out our online request form.