Lawnside Bathroom Remodeling Pros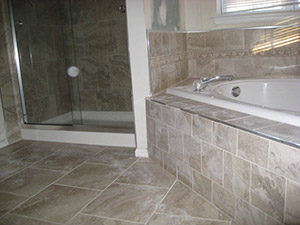 Deciding that you need Lawnside bathroom remodeling means just one thing – you need to call Baths By ZR! We offer a wide variety of services, but that's not the only thing that matters.
What has helped us build the solid reputation that we have is our dedication to customer satisfaction, not just service. We believe in going above and beyond to deliver optimal results.
The last thing you want is to end up with work you are unhappy with, especially since you're likely to end up overpaying for it. We take bathroom remodeling seriously and that shows in the results we're able to achieve for every customer, every time.
Trusted Bathroom Remodeling Experts in the Lawnside Area
As the premier resource for Lawnside bathroom remodeling services, we offer various levels of projects. These are based mainly on the goals you have, as well as your budget.
One of our popular options is the custom bathroom remodeling. You may be curious and here is some of what you should know about this type of renovation service:
We'll take the time to learn more about what it is that you hope to achieve with your remodeling project. For some homeowners, it's just about updating the look while others want to change the layout. Personalizing the job to your needs is what makes all of the difference.
It can feel overwhelming once you realize you have so much to think about. The bigger picture is made up of a lot of little details including the sink, vanity, flooring, and more. You can count on us to guide you through the process and help you make important decisions about your bathroom.
You'll be surprised to learn that you have a lot more space than you actually realize. So many homeowners think they need more space. What they usually need is a better system for organization to make better use of the existing space. We can help make this possible for you.
Reliable Bathroom Renovation Work
When it comes to Lawnside bathroom remodeling, all you need to do is give us a call. We work hard, putting our 60 years of combined expertise to work for you.
Aside from making your home look better and creating a more user-friendly space, this is a smart investment. Updating and upgrading your bathroom adds value to your home.
The best part is you get to make full use of and enjoy this investment. Stop putting off until tomorrow what we can take care of for you today.
If you are looking for a professional bathroom remodeling contractor in Lawnside, give us a call today at 856-302-1007 or fill out our online request form.