Professional Laurel Springs Bathroom Remodeling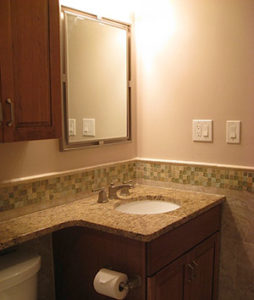 The number one reason that homeowners procrastinate when it comes to Laurel Springs bathroom remodeling is it doesn't seem like that fun of a project. Or, for some homeowners, it doesn't seem to be a high enough priority.
Baths By ZR know different; we've seen so many of these transformations, as well as the reactions of our customers, to know how exciting and important this really is. You simply can't have the home of your dreams without making sure you love every last detail.
There are so many great reasons to make this project a priority, and it's our job to help make sure you get that. Stop neglecting this space in your home sweet home and start working with a pro who can help you see its real worth.
Laurel Springs Bathroom Remodeling: Making the Most of Your Project
Is it about looks or purpose or property value? The answer is yes, because it's all of the above.
Your Laurel Springs bathroom remodeling can help you accomplish all of that and plenty more. If you want to keep it simple, we also offer our super saver bathroom remodeling.
So, what exactly does that entail?
You get a standard 5×8 bathroom renovation with some deluxe options and it only costs $8,900.
You can get a premium tub or a shower base conversion.
You can also get tiles on shower walls or bath floors the choice is yours.
You get great choices for your vanity and mirror, as well as the replacement light.
With this package, you even get to select if you want a marble or granite vanity top with the new sink.
Take advantage of a new Kohler toilet in addition to Moen shower and faucets.
Don't worry, this still includes the basics you need to complete the job such as drain connections, drywall repairs and more. You're going to love your bathroom when we're done, and that's something we can guarantee.
We even demo work and remove all trash that's left in the aftermath. So, give us a call today and find out about Laurel Springs bathroom remodeling and how our work can benefit you.
Exceptional Results for Your Bathroom Remodeling
If you are ready to make big changes, give us a call. We want you to be able to love every room of your home, including the bathroom.
You won't believe the final outcome or that your old bathroom could become something so amazing. Stop putting up with drab when it could be fab!
If you are looking for a professional bathroom remodeling contractor in Laurel Springs, give us a call today at 856-302-1007 or fill out our online request form.