Haddonfield Bathroom Remodeling Excellence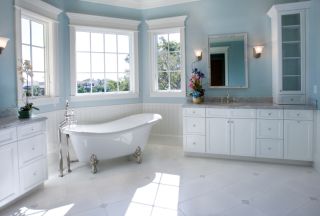 When it comes to bathroom remodeling in Haddonfield, you need to feel confident that you're going to get supreme service. That means both high-quality materials and expert workmanship, in order to achieve optimal results.
With over 60 years of combined expertise, Baths By ZR can help you reach the goals you have for your bathroom. Because as silly as it may sound, you should have aspirations for every room in your home, including the lavatory.
Think about it, your home is an ever-changing space; it's never really finished because it can always be updated, improved and renovated. Simply put, if your bathroom isn't exactly the way you want it to be, call us for your Haddonfield bathroom remodeling service needs.
Bathroom Remodeling Experts in Haddonfield
"But my bathroom works perfectly fine as is," you say. While that may be true, when was the last time you had it updated or upgraded?
Plus, are you really being honest with yourself about the current state of this room? Many homeowners live in denial without facing the fact that their bathroom actually has a lot of potential, but it's not reaching it.
It's time for you to learn more about how you can benefit from a Haddonfield bathroom remodeling job.
Is the layout functional? Now that you've lived in your house for a while, you've probably noticed ways in which you would like to change this space. There are probably details about it you wish you could change. Now is the perfect time to do so.
Do you have enough storage? One of the biggest complaints homeowners have is that they don't have enough space in their bathroom. Yet, the real problem is usually that the available space isn't being utilized in the optimal way. This includes adding storage so you use every square inch that's available.
If you don't love the look, but you've learned to live with it, it's time for a change. You can't have the home of your dreams if there are any details about it you don't love. Yes, even your bathroom should be a space you love the looks of and can enjoy while there.
Home Improvement: Haddonfield Bathroom
So, by now you're probably, finally starting to consider bathroom remodeling. The wheels are turning and you're starting to plan little details that you could add that would really make this space more enjoyable.
Think about things like tile flooring or granite bathroom vanity tops. Whether you want to spruce things up a bit or completely transform your space into something that resembles a luxury spa, we can make that a reality.
If you are looking for a professional bathroom remodeling contractor in Haddonfield, give us a call today at 856-302-1007 or fill out our online request form.