Exceptional Berlin, NJ Bathroom Remodeling Projects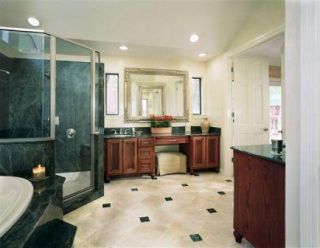 Are you planning to remodel your Berlin bathroom? Are you looking for a remodeling contractor? Sometimes it isn't easy to determine who you can trust to do great work and treat you right.
Our  Bathroom Remodeling Company is here for all your Berlin Bathroom Remodeling needs. We have more than 6 decades of experience working with South Jersey residents to create stunning bathrooms.
Whether you choose high-end materials and fixtures or just simple and elegant, we are able to help you turn an old bathroom into a luxurious and beautiful space.
For a great bathroom, you'll need a great design. Have you thought about what style you'd like to have incorporated into your new space?
Whether you know exactly what you want or need help, our expert designer will work with you to ensure you get what you need from the remodeling.
Full Project Management
Expert Designers
Quality Craftsmanship
6+ Decades Industry Experience
Family Owned Local Business
We have two bathroom remodeling packages that can help you plan the project. With our Tune Up and Super Saver package, you will know exactly what to expect and what it will cost. We also offer custom bathroom remodeling.
Tune Up Bathroom Remodeling Package
Custom Bathroom Remodeling
Berlin Bathroom Remodeling Ideas
If you've been looking at ideas for your new Berlin bathroom, what have you been drawn to? A bathroom space is completely personal, and so is the design.
Every person is different and has different needs. Are you aging and need safety bars and non-slip surfaces? Or do you love a light and airy feel that beautiful glass tiles can bring in?
Many materials for bathroom remodeling are classic, granite and marble being among them. What type of countertops and flooring do you prefer? Do you love natural stone or would you prefer bamboo?
Long-lasting waterproof materials are always best for a bathroom. With more durable materials, your remodeling lasts longer and it adds more value to the home.
Let us help you create a stunning design that you'll love!
Custom Bathroom Remodeling For Berlin
There's nothing we can't do for your custom bathroom remodeling. Whether it's a small guest bathroom or a large master bath, you have all the options you want for change.
We will help you plan and build the perfect bathroom. And, we'll take care of all the plumbing, electrical, lighting, flooring, tile work, cabinetry, demo, design, and cleanup. Call today to see why so many in Berlin love our bathroom remodeling company!
If you would like more information about Berlin Bathroom Remodeling, please call 856-302-1007 or complete our online request form.