Exceptional Bellmawr, NJ Bathroom Remodeling Projects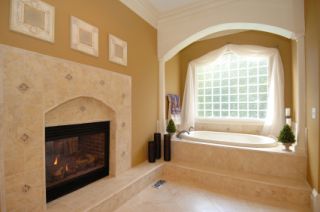 If you are looking for a Bellmawr bathroom remodeling contractor, you'll want to find one who can handle the project completely with skill. Full project management is important so you aren't having to manage it yourself.
With our  Bathroom Remodeling Company, you'll have all the help you need so all you have to do is determine what you want to change and what you'd like to install new. Our expert designer will assist you with a new bathroom design that suits your needs perfectly.
And, we have bathroom remodeling packages that you'll want to check out. With our two packages, you'll know exactly what to expect in terms of budget and what is included in the remodel. We also offer full custom bathroom remodeling services as well.
Super Saver Package
Custom Bathroom Remodeling
Full Project Management
Expert Designers
Quality Craftsmanship
6+ Decades Industry Experience
Family Owned Local Business
Bellmawr Bathroom Remodeling Ideas
Granite and Marble Countertops are always going to be classic favorites. There are many beautiful types of granite or marble to go with your home.
When remodeling a Bellmawr bathroom, long-lasting durable materials are best. They not only give you an upscale design, but they add more value to the home. If selling, they attract more buyers.
The flooring needs to do well with the humidity present in a bathroom. Tile floors are one of the best choices you can make for waterproofing. Natural stone options last longer and chip or crack less often than ceramics. But they do require more maintenance with regular cleaning and sealing.
Terrazzo
Slate
Marble
Travertine
Pebbles & Stones
Limestone
Custom Bathroom Remodeling For Bellmawr
Many bathroom renovations involve custom remodeling. Whether it's a large master bath or a small powder room, you have all the options you need to customize the space.
There are many details to consider from the make and model of bathtubs, showers, toilets, and sinks to all the materials that make up the flooring and walls. The design will also need to be planned right so there are no mistakes that delay the project or cost more to fix.
Baths By ZR will work with you through the whole process from the design phase to the final cleanup. We'll manage your Bellmawr custom bathroom remodeling project fully so all you have to worry about is what you want to change.
Call today for the best bathroom remodeling contractors you can find in Bellmawr or any of our other South Jersey service areas.
If you would like more information about Bellmawr Bathroom Remodeling, please call 856-302-1007 or complete our online request form.