Exceptional Audubon Park, NJ Bathroom Remodeling Projects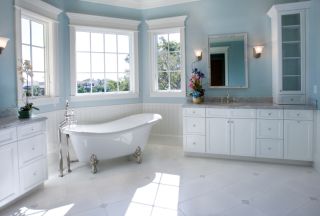 Remodeling your Audubon Park bathroom gives you the opportunity to change anything you don't like and add features you love. Updating a bathroom adds value to the home, but only if the workmanship is top notch.
Working with an experienced remodeling team is an experience you need to have. You'll have all the expert advice from an experienced designer to ensure you get what you want and that the project goes as planned with no problems.
Full project management is important. Choose our  Bathroom Remodeling Company for an exceptional Audubon Park bathroom remodeling experience that leaves you raving about us for years.
Our Audubon Park Tune Up Bathroom Remodeling Package
Over the years, we have found that offering a flat rate bathroom remodeling package helps many customers to get what they need. We have put together two package options for you, but we are also experts at custom bathroom remodeling.
With the Tune Up Bathroom Remodeling package, you'll have:
New Tub, Shower, Sink, Toilet
New Faucets
Marble or Granite Vanity Top
Drain Line Connections
Trash Hauling & Cleanup
Demo Work
$4,900 Flat Rate Bathroom Remodeling
Standard 5×8 Bathroom Renovation
Our Super Saver Audubon Park Bathroom Remodeling Package
For a more comprehensive renovation, the Super Saver bathroom remodeling package offers you:
Moen Shower & Sink Faucets
Kohler Toilet
New Shower
New Sink with Granite or Marble Vanity
Premium Tub or Tub to Shower Base Conversion
Shower Wall & Floor Tiles
Waterproof Tile Board
Solid Wood Vanity -in Your Color Choice
New Mirror
Replacement Light
Drain Line Connections
Trash Hauling & Cleanup
$8,900 Flat Rate Bathroom Remodeling
Standard 5×8 Bathroom Renovation
Audubon Park Custom Bathroom Remodeling
There's nothing better than being able to customize your bathroom. Remodeling gives you the opportunity to make your Audubon Park space exactly as you want it and need it to be.
Floor plans can be changed, additional lighting added, plumbing moved, and features changed. With custom bathroom remodeling, the only limitation is your imagination.
At Baths By ZR, we specialize in custom bathroom remodeling for the South Jersey area. If you have special plans or design ideas for your Audubon Park remodeling, we can get it done. We'll help you plan the perfect design that ensures you have a luxury spa experience you'll love for years to come.
If you would like more information about Audubon Park Bathroom Remodeling, please call 856-302-1007 or complete our online request form.