The Best Audubon, NJ Bathroom Remodeling Contractors You Can Find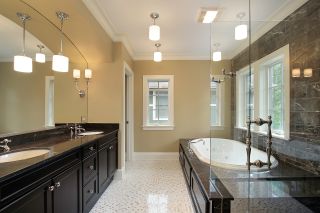 If you are planning to remodel your Audubon bathroom this year, contact our experts at Baths By ZR. We'll make sure your project completes within your budget while giving you many wonderful options for remodeling.
Our design experts offer you all the assistance you need to find the right colors, textures, fixtures, flooring, and more. Our  Bathroom Remodeling Contractors have decades of industry experience in the Audubon area and keep your satisfaction in the forefront of all we do.
Call today so we can show you why so many in the greater South Jersey area love our work!
Tune Up Bathroom Remodeling For Audubon
With a tune up bathroom remodeling package from Baths By ZR, you get top of the line features such as new marble or granite vanity tops, new tubs, new shower, new toilet, new sink, faucets, and premium wall surround.
The tune up bathroom package offers you a flat rate for $4,900 and comes with drain lines, demo work, and trash hauling. This is a great idea for many reasons including knowing what the project will cost up front and it takes care of all the major changes needed for your bathroom remodeling.
Is Audubon Super Saver Bathroom Remodeling Right For You?
Another bathroom remodeling package we offer is the Super Saver package. You get your choice of premium tub or tub to shower base conversion. It also includes shower wall and floor tiles with waterproof boarding underneath.
You'll have a solid wood vanity, new mirror, and replacement light with marble or granite vanity top. A new sink, Moen shower and sink faucets, and Kohler toilet are also in the Super Saver remodeling package.
Again, all drain connections will be handled as well as demo work and trash removal. This package includes replacement or repair of mold-guard drywall and painting.
Expert Custom Bathroom Remodeling For Audubon Homes
For any type of renovation you choose, you'll be working with our expert bathroom remodeling designers. With a custom bathroom remodel, your Audubon bathroom will be designed to your specific custom needs. We'll help you make the best decisions with advice from designers you can trust.
Quality Audubon Bathroom Remodeling
When it comes to remodeling your bathroom, you'll want to be sure your contractor has experience in the industry. The Baths By ZR remodeling team has decades of industry experience. We have served the greater South Jersey area for more than six decades. We deliver quality workmanship, materials, and customer service every time.
If you would like more information about Audubon Bathroom Remodeling, please call 856-302-1007 or complete our online request form.