Unleash the Beauty of Your Bathroom with Premier Bathroom Remodeling in Pennsauken, NJ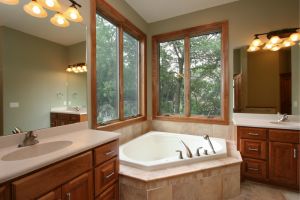 Experience the transformative power of bathroom remodeling in Pennsauken, NJ with Baths by ZR. Our skilled team specializes in delivering unparalleled results that will elevate the aesthetic appeal and functionality of your bathroom. From concept to completion, we bring your vision to life, ensuring a stunning and customized space that exceeds your expectations.
Picture yourself stepping into a luxurious bathroom designed just for you in Pennsauken, NJ. With our expertise and attention to detail, we create a seamless blend of style and practicality, tailored to your unique taste and requirements.
The Benefits of Our Bathroom Remodeling Services
Enhanced comfort and relaxation: Transform your bathroom into a personal oasis, perfect for unwinding and rejuvenation.
Increased home value: A beautifully remodeled bathroom adds significant value to your Pennsauken, NJ home.
Improved functionality: Optimize the layout and storage capacity of your bathroom, making it more efficient and convenient.
Elevated aesthetics: Choose from a wide range of designs, materials, and finishes to create a bathroom that reflects your style and sophistication.
Energy efficiency: Upgrade to eco-friendly fixtures and appliances that promote sustainability and save on utility costs.
Personalized customization: Our team collaborates with you to create a bathroom that aligns perfectly with your vision and needs.
Contact Baths by ZR today to embark on a journey of bathroom transformation. Our expert team is ready to bring your dream bathroom to life, ensuring unparalleled quality and craftsmanship. Experience the epitome of bathroom excellence in Pennsauken, NJ.
Why Choose Baths by ZR for Your Bathroom Remodeling Service
When it comes to choosing a partner for your bathroom remodeling project in Pennsauken, NJ, Baths by ZR stands out as the premier choice. Here's why:
Unmatched expertise: With years of experience in the industry, our team possesses the skills and knowledge to deliver exceptional results.
Attention to detail: We meticulously plan and execute every aspect of your bathroom remodeling, ensuring flawless craftsmanship and attention to detail.
Superior materials: We only work with top-quality materials and products, ensuring durability, longevity, and luxurious finishes.
Transparent communication: We believe in open and honest communication, keeping you informed throughout the entire remodeling process.
Customer satisfaction: Our primary goal is your complete satisfaction. We go above and beyond to exceed your expectations and create a bathroom you'll love.
All Of The Bathroom Remodeling Services We Offer In Pennsauken, NJ
Tune-up bathroom remodeling
Super saver bathroom remodeling
Custom bathroom remodeling
Toilet replacement
Tile flooring
Granite bathroom vanity tops
Bathroom sinks
Bathroom design
Bath tubs
Elevate Your Bathroom with Custom Bathroom Design in Pennsauken, NJ
Make a statement with our custom bathroom design services in Pennsauken, NJ. Our talented team of designers will work closely with you to create a bathroom that showcases your personal style and captures the essence of luxury. From selecting the perfect fixtures to creating a harmonious color palette, we pay meticulous attention to every detail, ensuring a breathtaking result that reflects your unique taste.
All Of The Cities Where We Offer Bathroom Remodeling Services
Washington, NJ
Monroe, NJ
Deptford, NJ
Camden, NJ
Cherry Hill, NJ
Gloucester, NJ
Evesham, NJ
Mount Laurel, NJ
Willingboro, NJ
and more!
About Pennsauken, NJ
Discover the charm and allure of Pennsauken, NJ. Nestled in a vibrant community, Pennsauken offers a blend of natural beauty and urban amenities. As a resident of Pennsauken, NJ, you deserve a bathroom that reflects the sophistication and style of your surroundings. Trust Baths by ZR to bring your dream bathroom to life, with meticulous attention to detail and unparalleled craftsmanship. Contact us today and experience the pinnacle of bathroom remodeling in Pennsauken, NJ.