Revitalize Your Space with Luxurious Bathroom Remodeling in Haddon, NJ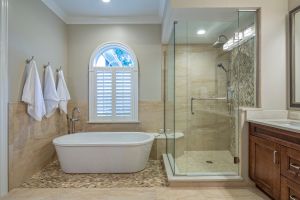 Create the bathroom of your dreams in Haddon, NJ with Baths by ZR. Our expert team specializes in delivering exceptional bathroom remodeling solutions and tune-up packages that will transform your space into a sanctuary of comfort and style.
When it comes to bathroom remodeling in Haddon, NJ, Baths by ZR stands out with its commitment to craftsmanship and attention to detail. With years of experience in the industry, our skilled professionals bring expertise and creativity to every project, ensuring stunning results that exceed your expectations.
Why choose Baths by ZR for your bathroom remodeling needs in Haddon, NJ?
The Benefits of Our Bathroom Remodeling Services
Enhanced functionality: Our remodeling solutions optimize the layout of your bathroom, making it more efficient and user-friendly.
Elevated aesthetics: Transform the look of your bathroom with our wide range of design options, from contemporary to traditional styles.
Increased home value: A beautifully remodeled bathroom adds value to your home, making it more attractive to potential buyers.
Improved storage and organization: Maximize your bathroom's storage capacity with customized cabinets and shelving solutions.
Energy efficiency: Upgrade to eco-friendly fixtures and appliances that conserve water and reduce utility costs.
Reliable and durable materials: We use high-quality materials and products that ensure long-lasting beauty and functionality.
Contact Baths by ZR today to experience the exceptional bathroom remodeling services we offer in Haddon, NJ. Our dedicated team is ready to bring your vision to life and create a bathroom that exceeds your expectations.
Why Choose Baths by ZR for Your Haddon, NJ Bathroom Remodeling
When it comes to your bathroom remodeling project in Haddon, NJ, Baths by ZR is the ideal choice. Here's why:
Expert craftsmanship: Our skilled professionals possess the expertise to deliver impeccable results and ensure every detail is perfect.
Personalized approach: We understand that every client has unique preferences and requirements, and we tailor our services to meet your specific needs.
Quality assurance: We use top-quality materials and employ rigorous quality control measures to ensure the durability and longevity of our work.
Transparent communication: We keep you informed throughout the remodeling process, ensuring clear and open communication every step of the way.
Customer satisfaction: Our goal is your complete satisfaction. We work tirelessly to exceed your expectations and create a bathroom you'll love.
All Of The Bathroom Remodeling Services We Offer In Haddon, NJ
Tune-up bathroom remodeling
Super saver bathroom remodeling
Custom bathroom remodeling
Toilet replacement
Granite bathroom vanity tops
Bathroom sinks
Bathroom design
Bath tubs
Transform Your Bathroom Flooring with Tile Flooring in Haddon, NJ
Upgrade the flooring in your Haddon, NJ bathroom with our exceptional tile flooring services. Our team of skilled professionals will help you select the perfect tiles to complement your bathroom's style and functionality. From sleek and modern to classic and timeless, we have a wide range of options to suit your taste.
All Of The Cities Where We Offer Bathroom Remodeling Services
Washington, NJ
Monroe, NJ
Deptford, NJ
Camden, NJ
Cherry Hill, NJ
Gloucester, NJ
Evesham, NJ
Mount Laurel, NJ
Willingboro, NJ
and more!
About Haddon, NJ
Discover the charm and warmth of Haddon, NJ. With its tree-lined streets and historic architecture, Haddon offers a unique blend of small-town atmosphere and modern conveniences. If you're a resident of Haddon, NJ looking to elevate your bathroom's style and functionality, Baths by ZR is here to help. Contact us today to schedule a service and embark on a bathroom remodeling journey that will transform your space into a haven of luxury and relaxation and improve your Haddon home.