Exceptional Bathroom Remodeling Services In Gibbsboro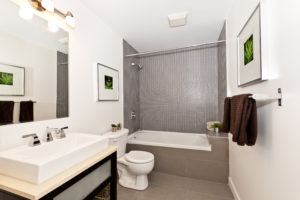 When you make the choice to remodel your Gibbsboro home's bathroom, you are going to want to ensure that you have the services of a professional bathroom remodeling contractor who has a proven history of delivering exceptional quality results to each and every one of their clients consistently. When you are looking to get the most out of your bathroom in terms of both aesthetic and function, you are going to want to call in the professional Gibbsboro bathroom remodeling contractors at Baths By ZR. Our team of professionals have the skill, experience, and training needed to ensure that you get the bathroom of your dreams. All you have to do is give us a call.
If you are planning to have a bathroom remodeling project performed sometime in the near future, you want to be sure you have a contractor in mind for the job who is going to be able to manage the project completely from start to finish so that you don't wind up having to do so. Having an experienced professional at the help ensures that you won't have to deal with hiring separate contractors, and that you get access to a full line of exceptional bathroom remodeling products. Having an experienced team of hand for your bathroom remodeling project is absolutely vital to ensuring that you get the high quality workmanship and the exquisite results that you deserve.
Give us a call today if you have any questions about our full line of professional bathroom remodeling services, or if you would like to schedule your appointment for service with one of our highly skilled specialists. Our team of experts are always standing by and would be more than happy to take your calls. We look forward to working with you.
Bathroom Remodeling Services In Gibbsboro
Homeowners throughout the area have come to trust us for all of their bathroom remodeling needs over the years, and as such, our services have evolved over the years to better serve our loyal customers. Our line of custom bathroom remodeling services include all of the following and much more:
Bathroom Tune Up Remodeling Packages
Full Project Management
Experts Designers
Quality Craftsmanship
Gibbsboro Bathroom Tune Up Remodeling Packages
To better suit our customers needs, we have put together specialized packages that include everything you need to get the luxurious new bathroom you've always wanted. With our specialized tune up remodeling packages, you will know exactly what you are getting ahead of time, and it all comes at a flat rate price, letting you rest easy knowing in advance exactly what the entire project is going to cost. These packages include demo work, drain line connections, and a number of new features to help you improve the look and the function of your home's bathroom spaces.
If you are looking for a professional bathroom remodeling contractor in Gibbsboro, give us a call today at 856-302-1007 or fill out our online request form.