High Quality Bathroom Remodeling Contractors In Collingswood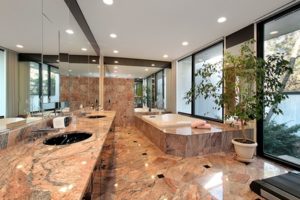 Here at Baths By ZR, we have worked hard over the years to earn ourselves the right to be call the Collingswood area's premier choice when it comes to high quality bathroom remodeling services. Our team of professional Collingswood bathroom remodeling contractors have been delivering exceptional quality remodeling services to homeowners for over sixty years, and we have no intention of slowing down anytime soon. Homeowners throughout the area have come to trust us with all of their bathroom remodeling projects in no small part because of our commitment to offering only the best in terms of workmanship, products, and customer service. Too often, homeowners wind up entrusting their bathroom remodeling work to a sub part contractor who is only going to deliver them shoddy work or a design that they never wanted to begin with. Our team of professionals believe that you should never have to put up with a bathroom that you don't absolutely love, and we are here to make sure you get just that.
Many companies aren't able to deliver the high quality results that we can on a consistent basis because many companies don't take the customer into considering as often as they should. Many companies won't inform the customer about how the process is going to work, or consult with them about important choices that need to be made for a remodeling project that is taking place right inside their own home. Here at Baths By ZR, we make it a point to always keep our clients in the loop and make sure that a clear line of communication is maintained at all times. When it comes to making decisions for you bathroom remodeling project, you always have the final say. It is your house after all. Our foremost goal is always to make sure that you feel included in the decision making process, and that you are in charge. Our job is simply to help you turn your vision into a reality.
Give us a call today if you have any questions about our full line of professional bathroom remodeling services, or if you would like to schedule your appointment for service with one of our highly skilled specialists. Our team of experts are always standing by and would be more than happy to assist you in any way we can. We look forward to hearing from you.
Bathroom Remodeling In Collingswood
While there are a number of reasons that make us proud to be the premier name in Collingswood bathroom remodeling contractors, the thing that give us the greatest sense of pride is the fact that so many local homeowners choose us time and time again for all of their bathroom remodeling needs. If you feel like your Collingswood home's bathroom is in need of an update, either because it isn't functioning like you need, or you just think it's time to update its style, give us a call today. When it comes to bathroom remodeling, we have the skill, knowledge, and the experience to take care of everything.
Bathroom Design In Collingswood
For all of your bathroom design needs here in Collingswood, you can always count on the professionals at Baths By ZR to get the job done, and get it done right the first time. From smaller projects like powder rooms and hall baths, to complete master bath remodels, we can assist you in finding the perfect details to make the space truly yours and give it the function you need.
If you are looking for a professional bathroom remodeling contractor in Collingswood, give us a call today at 856-302-1007 or fill out our online request form.