Professional Bathroom Remodeling Contractors In Clementon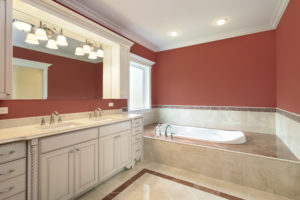 If you are looking for a professional bathroom remodeling contractor for your Clementon home, you are going to want to make sure you find a professional who is going to be able to handle the project you have in mind completely, and isn't going to let any small details of your job fall through the cracks. Fully project management when it comes to bathroom remodeling is absolutely essential so you don't wind up having to manage the work yourself and make sure that multiple different contractors are all on site doing what it is they are supposed to be doing. Our team of professional Clementon bathroom remodeling contractors at Baths By ZR have all of the skill and experience you need to make your next bathroom remodeling project a smashing success, so all you have to do is determine what it is you wanted changed or installed, and let our team of professionals take care of the rest. Our expert designers can even help you if you have a general idea in mind, but you aren't sure of the specifics for your upcoming project yet. Our team of professionals will work with you through the entire process and help you come up with a new bathroom idea that is perfectly suited to your tastes and your functional needs.
In addition to our high quality services, we also offer a full line of special bathroom remodeling packages that we have put together for our customer's convenience. With our high quality packages, you will always know exactly what you are getting and what to expect in terms of budget. When you make the choice to hire our team of professional bathroom remodeling contractors, you are getting the services of a professional that offers all of the following and more:
Custom Bathroom Remodeling
Full Project Management
Expert Designers
Quality Craftsmanship
6+ Decades Of Industry Experience
Clementon Bathroom Remodeling Ideas
Granite and marble countertops are always going to be some of the more classic favorites when it comes to bathroom remodeling, and there are a number of different types of these wonderful materials to choose from. When you invest in a high quality remodeling for your bathroom, it is usually best to go with long lasting, durable materials that are able to withstand the daily use they are going to receive over the years. Granite and marble countertops are not only going to give your bathroom a more upscale, luxurious feel, but they will also add a great deal of value to your home, which can be important if you are looking to sell anytime in the near future.
Custom Bathroom Remodeling In Clementon
There are so many details to consider when it comes to bathroom remodeling that the sky really is the limit in terms of what kind of style and function you want to achieve with your project. Our team of professionals will help guide you through the process from the initial design to the final cleanup.
If you are looking for a professional bathroom remodeling contractor in Clementon, give us a call today at 856-302-1007 or fill out our online request form.