Revitalize Your Space with Luxurious Bathroom Remodeling in Berlin, NJ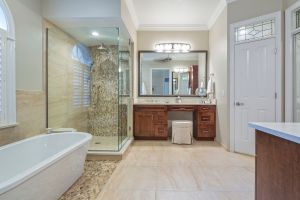 Are you searching for the perfect way to upgrade your bathroom in Berlin, NJ? Look no further than Baths By ZR! Our top-notch bathroom remodeling services in Berlin, NJ are designed to transform your outdated bathroom into a haven of luxury and relaxation. With our unrivaled expertise and attention to detail, we offer exceptional tune-up packages and bathroom remodeling solutions that cater to your unique needs and style preferences.
Why choose Baths By ZR for your bathroom remodeling project in Berlin, NJ? Let us unveil the benefits:
The Benefits of Our Bathroom Remodeling Services
Enhanced functionality: We optimize the layout of your bathroom, making it more efficient and convenient for everyday use.
Increased value: Our bathroom remodeling services add value to your home, making it more appealing to potential buyers.
Personalized design: We collaborate closely with you to create a custom bathroom design that reflects your taste and suits your lifestyle.
Improved aesthetics: With our expertise in bathroom design, we ensure that your new space is visually stunning and harmonious.
Updated fixtures and features: From elegant bathroom sinks to luxurious bath tubs, we offer a wide range of options to upgrade your bathroom's features.
Don't settle for an ordinary bathroom when you can have a masterpiece. Contact Baths By ZR today for professional bathroom remodeling in Berlin, NJ and experience the ultimate transformation.
Why Choose Baths By ZR for Your Berlin, NJ Bathroom Remodeling
When it comes to your bathroom remodeling needs in Berlin, NJ, Baths By ZR stands out from the competition. Here's why:
Expert craftsmanship: Our highly skilled team of professionals ensures meticulous attention to detail and delivers exceptional results.
Quality materials: We use only the finest materials and products, ensuring durability and longevity for your newly remodeled bathroom.
Transparent communication: We believe in open and clear communication throughout the entire remodeling process, keeping you informed every step of the way.
Timely completion: We understand the importance of timely project completion, and we strive to deliver your dream bathroom on schedule.
Customer satisfaction: Our commitment to customer satisfaction is unparalleled. We go above and beyond to exceed your expectations and ensure your complete happiness with the final result.
All Of The Bathroom Remodeling Services We Offer in Berlin, NJ
Tune-up bathroom remodeling
Custom bathroom remodeling
Toilet replacement
Tile flooring
Granite bathroom vanity tops
Bathroom sinks
Bathroom design
Bath tubs
Transform Your Bathroom in Berlin, NJ with Our Custom Bathroom Remodeling
Looking to personalize your bathroom space in Berlin, NJ? Look no further than Baths By ZR. Our custom bathroom remodeling services allow you to bring your unique vision to life. Whether you're seeking a sleek and modern design or a timeless and classic style, our team of experts will work closely with you to create a bathroom that exceeds your expectations.
All Of The Cities Where We Offer Bathroom Remodeling Services
Washington, NJ
Monroe, NJ
Deptford, NJ
Camden, NJ
Cherry Hill, NJ
Gloucester, NJ
Evesham, NJ
Mount Laurel, NJ
Willingboro, NJ
and more!
About Berlin, NJ
Berlin, NJ is a vibrant and welcoming community with a rich history and close-knit atmosphere. Known for its beautiful neighborhoods and charming downtown, Berlin offers a high quality of life for its residents. When it comes to bathroom remodeling in Berlin, NJ, Baths By ZR is your trusted partner. With our expertise and dedication to excellence, we are committed to transforming your bathroom into a space that perfectly suits your needs and enhances your daily life. Contact us today to get started on your dream bathroom remodeling project in Berlin, NJ.